HOW TO CELEBRATE THE WINTER SOLSTICE
ERIN FEHER & KATIE HINTZ-ZAMBRANO

As lovely as the holidays can be, they can also be a little divisive, especially in families with mixed spiritual and cultural beliefs. That's why we love the idea of celebrating the winter solstice. It's literally a celebration of the imminent return of sun, which we can all agree is pretty great. And the best part? No shopping required. Wondering what exactly the solstice is? Happening twice a year, it marks the exact moment that one of Earth's poles is at its maximum tilt. So, on the day of the winter solstice, the sun travels its shortest path through the sky. And this year, on Wednesday, December 21, 2022 at 1:48 p.m. PST and 4:48 p.m. EST, that's what will happen for us Northern Hemisphere folks (be sure to check your specific local winter solstice sunset time!). Conversely, the Southern Hemisphere will be enjoying summer solstice at the exact same moment, as their half of the globe is tilted towards the sun. (Find out how to celebrate the summer solstice here!). Astronomically, the winter solstice marks the end of fall and beginning of winter, and early pagan winter solstice traditions were created to celebrate the "birth of the sun." The occasion is marked with sweet and traditional winter solstice rituals—from brewing mulled cider and eating winter solstice foods, to lighting lanterns, reciting winter solstice quotes, striking special yoga moves, and setting intentions for the season ahead. Below, we have rounded up some of our favorite winter solstice traditions so you can make this year's shortest day a memorable one. Happy winter solstice!

Decorate an Outdoor Edible Tree for the Animals
As an alternative (or in addition to) a traditional indoor holiday tree, decorating a live outdoor tree with biodegradable, edible ornaments for local birds and other creatures makes for a fun project with kids. We love all these edible ornament ideas from around the web, such as citrus bird feeders, peanut butter pinecones, seed ornaments, and classic popcorn and cranberry garlands. Trim the tree and watch the critters come by and enjoy their treats!

Make Happy Winter Solstice Art + Lanterns

Our favorite winter solstice art project is making lanterns—one of the most popular winter solstice symbols of adding light to the darkest day of the year. There are dozens of DIY-lantern projects out there, and it's really about finding one that works with what you already have at home. We tend to have an abundance of glass Mason jars, so we use colored tissue paper, cut-out sun, moon, and star shapes, and foraged leaves, and adhere them to the outside of a jar using modpodge or white school glue and paint brushes. Once the final decorations are in place, apply one last thin coat of glue on the outside of the lantern, and let it dry for about an hour. Remember to only decorate the outside of the jar, as once it's all dry you drop a tea light into it and enjoy the warm glow!
 Read Winter Solstice Books
What better time to snuggle up under a blanket and read through a stack of wintery-themed books than the shortest (and likely one of the chilliest) days of the year? The winter solstice book The Shortest Day, written by Newbury Medal–winner Susan Cooper and illustrated by one of our favorite mamas, Carson Ellis, is at the top of our family reading list these days. It moves through times to show how the winter solstice traditions and celebrations have carried on and evolved over centuries—from the earliest pagan traditions. It includes the most beautiful winter solstice images and pictures that you'll want to pour over again and again.

Recite Winter Solstice Quotes, Poems, or Blessings
The book The Shortest Day utilizes the beautiful 1977 winter solstice poem by Susan Cooper of the same name. Take turns reciting different parts of this beloved winter solstice quote or another winter solstice blessing and spiritual winter solstice quotes found online—including the winter solstice poem Mary Oliver wrote, Snowy Night, and pagan winter solstice quotes—with your children. Our favorite is listed below:

The Shortest Day, by Susan Cooper
And so the Shortest Day came and the year died
And everywhere down the centuries of the snow-white world
Came people singing, dancing,
To drive the dark away.
They lighted candles in the winter trees;
They hung their homes with evergreen;
They burned beseeching fires all night long
To keep the year alive.
And when the new year's sunshine blazed awake
They shouted, reveling.
Through all the frosty ages you can hear them
Echoing behind us—listen!
All the long echoes, sing the same delight,
This Shortest Day,
As promise wakens in the sleeping land:
They carol, feast, give thanks,
And dearly love their friends,
And hope for peace.
And now so do we, here, now,
This year and every year.
Welcome, Yule!

Incorporate Celtic and Pagan Symbols Of Yule Time
Do some research with your little ones on specific pagan yule time and celtic winter solstice traditions. This might include incorporating a pagan winter solstice symbol—like Candles (Winter Sun), Pine (Healing), Holly (The God), Mistletoe (The Goddess) and the Yule Tree (Renewal)—into your home.

Make A Winter Solstice Food or Craft, Such As Orange Pomanders
This is a simple winter solstice food craft that's easy to do with kids and one that you will actually want to keep around the house afterwards. Start with firm oranges and a jar of whole cloves. Use a citrus zester to create patterns in the fruit peel and a small toothpick or skinny nail to make holes where you want the cloves to go (the pre-poked holes make it easier for kids to stick in the cloves). Stick the cloves in the fruit and you're all set. Place a few in a bowl as a fragrant solstice centerpiece, or hang smaller fruit as ornaments on the tree. They also make sweet winter solstice gifts!

Spend The Night By Spiritual Candlelight
Switching off all the electric lights and doing dinner, homework, bath, story time, and more by the light of flickering candles and warm lantern light makes even mundane activities extra special and spiritual, and also makes the long, dark night more real. It also helps everyone appreciate the modern conveniences we take for granted!

Strike Some Winter Solstice Yoga Moves
Welcome the shortest day of the year with a graceful winter solstice yoga sequence. Here is one great 12-step yoga winter solstice practice to get started.

Experience Winter Solstice At Stonehenge (Virtually)
Stonehenge was specifically created to align with the sun on the winter solstice and summer solstice. On the morning of December 22 (not December 21), the 2022 winter solstice sunrise at Stonehenge  will be live-streamed via Stonehenge Winter Solstice on YouTube.

Make Some Wassail
This traditional warming drink is perfect for sipping during a  solstice celebration (and it makes the house smell incredible). For this traditional winter solstice drink, simply combine 2 quarts apple cider, 1 1/2 cups orange juice, 3/4 cup pineapple juice, 1 tablespoon brown sugar, 1/2 teaspoon lemon juice, 2 cinnamon sticks, a dash of ground cinnamon, and a dash of ground cloves in a saucepan and bring to a boil. Lower the heat and simmer for 20-30 minutes. Discard the cinnamon sticks, pour into mugs, and serve. And for the grown-ups, a splash of rum or cinnamon whisky doesn't hurt. Combine with other winter solstice food for an over-the-top spread.

Share Funny Winter Solstice Greetings Or Meme
Search the web for winter solstice jokes, winter solstice greetings, and winter solstice funny memes to share with loved ones. (Here's one to get them started: Knock, knock! // Who's there? // Yule log. // Yule log who? // Yule log the door after you let me in, won't you?)


Reflect, Release, Let Go, and Set Intentions For The New Season
The winter solstice is considered the seasonal dark night of the soul. Spiritually, it's a time to honor both the light and the darkness that resides within each of us. Take small scraps of paper and write down the things that you would like to let go of. When everyone has finished, throw them in the yule log fire, transforming darkness into light. After "letting go," set intentions for the new season ahead—speak aloud a thing, idea, habit, or practice that you would like to bring into your life.

Happy Winter Solstice!
Embracing Fall and getting Winter Ready!
Fall, for many our favorite season.  Days of crisp, sunny walks, coffee in hand, and then it hits freezing and your thoughts turn from pumpkin spice to did I shut the taps off!
I think we all like to drag the season out but getting things done without wearing mittens is really the preferable way to go. So enjoy your pumpkin spice and turkey this weekend but take a moment to consider the items on next list. You will be glad you did in the end.
Furnace. Schedule an inspection and stock up on filters. Also check your warranty. Make sure any warranty details are looked after before it expires.
Outdoor taps. If you don't have a frost free tap, turn off inside at the shut off, remove and store your hose and open the outside tap to drain.
Air conditioner. Turn off both the inside and outside breaker. Vacuum any debris out of the unit and cover.
Downspouts. Make sure all your downspouts are on securely and consider extenders. Have snow run off as far away from your foundation as possible.
Gather your shovels, extension cords, battery charger, snow brush and put them in an accessible spot for when the snow comes.
Book your winter tire and oil change
Remove your screens, clean and store.
Check your smoke detectors
Grab some WD40 and lubricate door hinges and locks
Check your exterior doors for gaps. With changing conditions most of our homes have shifted. Adding a bit of weather stripping is simple and affordable.
Fireplace. If you have a wood burning device, get your chimney inspected and gather your wood in a covered bin with close access. You don't want to be wading through snow when you want a fire.
Now grab a coffee and get outside and enjoy that wonderful Fall day.
* If you need a contractor to help with any of these things, check out our trusted contacts page.
Which Color is Sexy, Daring, and "a Craze" Right Now? An Expert Fills Us In
Stacey Lindsay
This is my dream kitchen: It's airy and bright. Light pours through a giant window behind a farmhouse sink. A center island—peppered with bowls of produce—offers tons of space for sitting, chopping, and drinking wine. There's a glossy white backsplash and a creamy marble countertop. And anchoring it all are the most gorgeous dusty blue kitchen cabinets reminiscent of a stormy sky.

Blue is my interior design spirit color—and it seems, according to color consultant Amy Wax, it is for many others these days. "There's such a craze about blue," Wax tells me.
This makes sense, given how blue is a decidedly classic color, yet also one that pushes boundaries. It's not a neutral, per se, but it complements most décor and design. It can be moody and mystic, ethereal and calming, bold and exciting.

Blue in the Kitchen

Blue for the kitchen is big right now. Wax is seeing the color, both on the darker and lighter ends of the spectrum. gracing cabinets and walls. "Blue in the kitchen enables you to do something with confidence," she says, explaining how going for blue kitchen cabinets isn't a giant risk. "Blue doesn't commit you to redecorate around it—because it is such a classic color."

So I dug a little deeper into the blue spectrum with Wax. Here she breaks down what's trending in the blue world. Plus, she offers her insight into incorporating the colors, from inky navy to dusty cornflower, in the kitchen. Like with any hue or room, Wax says to go for the colors that pull at your heart. "The kitchen is so personal. It's a space where you are creative, spend time with family, have a glass of wine at the end of the day," she says. "So it needs to feel right for you."
 Blues Are Trending Right Now?

Like any color on the spectrum, blue contains multitudes. And within those multitudes are different energies. This cool color ranges from deep navy to medium sapphire to light sky. Wax is seeing a love of two blue "camps" right now: darker navies and lighter dusty blues.

A deep navy is "almost like black with a personality," she says, adding that there's an elegance and chicness to this darker color. On the other end, the "dusty, cottage-y" blues, which Wax says are always "feel-good colors," are trending. Not to be mistaken with baby blues, these lighter hues add a discerning beauty and lightness to a room.

Why Does Blue Work in the Kitchen?

Certainly whites and grays tend to take all the kitchen applause, but blue is a classic and complementary color for the most beloved room in the home. Wax says that the trending darker and lighter blues complement kitchen hardware. Navy is very in-tune with brushed brass, she says. And the lighter dusty blues complement all metal fixtures, from nickel to brushed brass to matte black. The most important tip when using blue—or any color—in the kitchen is to think in layers, says Wax. This approach helps to avoid oversaturating the space. Too much of one color in a kitchen "can literally tire your eyes," she says. If you have many kitchen cabinets, Wax loves the approach of painting the top portion white and the bottom blue.




The 6 Best Blue Kitchen Paint Colors

From bold to bright, and dark to light, these are the top paint colors for blue kitchen cabinets and beyond.

Darker Blues

There's no choice quite as timeless as a deep, dark blue. If you're looking for longevity when it comes to your kitchen cabinets, this is a safe, but bold pick.

Benjamin Moore Newburyport Blue

A member of the navy family, and one of Wax's beloved blues at the moment, this color pairs beautifully with etched brass hardware.
Look at this beauty: Is it navy? Is it dusty? Is it the color of the midnight sky? It's safe to say this brilliant blue is a little bit of everything.
Sherwin Williams – Naval

Wax describes this color, which is reminiscent of sapphire, as "a richer darker blue." It's ideal for the top portion of kitchen cabinets.SHOP NOWLighter Blues

Light blue paints run the gamut from classic to contemporary. Their dusty undertones create a soothing atmosphere in a part of the home that's often prone to stress.
Benjamin Moore Buxton Blue

A cooling, calming hue that conjures images of the ocean. This blue is the perfect uplifter for any kitchen.
Farrow & Ball St. Giles Blue

"Vivid" is the word the iconic English paint company uses to describe this blue. Existing in the middle of dark and light, St. Giles is an invitation to add a bold punch to kitchen cabinets.
Sherwin Williams Dutch Tile Blue

This blue, which Wax says is a "soft cottage-y" hue, is ideal for kitchen cabinets or an accent wall.
AUTHOR
Stacey Lindsay 



 
https://camillestyles.com/design/blue-kitchen-cabinets-paint-colors/
Gardening Trends-2022
Cindi French
As spring is just around the corner, Winnipeg garden trends – from the new design styles and ideas for our outdoor spaces to how we approach gardening itself – begin to bloom. And, with the likelihood that we will be using our gardens more in 2022 than we ever have before, we're ready to turn our back yards into stylish extensions of our homes – another 'room' we can enjoy and relax in. 
All gardens, present and future, need to be designed to cope with increasingly wet winters and hot, dry summers.  Climate change and whether your tree will still thrive in 50 years' time is something we need to consider in our plant choices.
Lawn edging will soon be giving way to a more naturalistic style of planting. 
Planting wise, there is a move towards more naturalist styles, and a large lawn is higher maintenance than a more naturalized space, and isn't so good for the environment, providing very little wildlife habitat and requiring pesticides and weekly mowing to keep it looking smart.
Adding in a range of perennials, grasses, a degree of evergreen and tree bark will give your garden appeal all year long.
Consider pollinators for the bees, herbs to enhance your meals and native plants that require less water and are intended to survive our prairie weather.
Winnipeg gardners stand behind these tried and true perennials as go too in Winnipeg gardens, Peony, Hosta, Lillies in all varieties, Speedwell, Coneflower and Ornamental grasses offer interesting backgrounds.  
If you are interested in planning a naturalized garden in Winnipeg using native plants, Living Prairie Museum offers workshops.
Winnipeg gardners can find an abundace of advice and terrific plants at most of our local garden centres. 
Here are a few of Winnipeg Gardners favorite choices:
Shelmerdines-Lacoste Garden Centre-Jardin St.Leon
How To Create Functional Spaces In Your Home
Cindi French
Since the outbreak of the novel coronavirus (COVID-19), many of us are spending a lot more time at home. We're all being called upon to avoid public spaces and practice social distancing to help slow the spread of this infectious disease. While it can be understandably challenging, there are ways you can modify your home and your lifestyle to make the best of this difficult situation.
Here are a few tips for creating comfortable and functional spaces within your home for work, school, and fitness. We also share some of our favorite ways to stay connected as a community, because we're all in this together … and no one should face these trying times alone.
Begin with the Basics
A basic home emergency preparedness kit is a great addition to any home, even under normal circumstances. It should include items like water, non-perishable food, a flashlight, first aid kit, and other essentials you would need should you temporarily lose access to food, water, or electricity.
Fortunately, authorities don't anticipate any serious interruptions to utilities or the food supply during this outbreak. However, it may be a good time to start gathering your emergency basics in a designated location, so you'll be prepared now-—and in the future—should your family ever need them. 
Ready to start building an emergency kit for your home? Contact us for a free copy of our Home Emergency Preparation Checklist!
Working From Home
Many employees are being asked to work remotely. If you're transitioning to a home office for the first time, it's important to create a designated space for work … so it doesn't creep into your home life, and vice versa. If you live in a small condominium or apartment, this may feel impossible. But try to find a quiet corner where you can set up a desk and comfortable chair. The simple act of separating your home and work spaces can help you focus during work hours and "turn off" at the end of the day. 
Of course, if you have children who are home with you all day (given many schools and daycares are now closed), separating your home and work life will be more difficult. Unless you have a partner who can serve as the primary caregiver, you will need to help manage the needs of your children while juggling work and virtual meetings.
If both parents are working from home, try alternating shifts, so you each have a designated time to work and to parent. If that's not an option, experts recommend creating a schedule for your children, so they know when you're available to play, and when you need to work.1 A red stop sign on the door can help remind them when you shouldn't be disturbed. And for young children, blocking off a specific time each day for them to nap or have independent screen time can give you a window to schedule conference calls or work uninterrupted.
Homeschooling Your Children
Many parents with school-aged children will be taking on a new challenge: homeschooling. Similar to a home office, designating a space for learning activities can help your child transition between play and school. If you're working from home, the homeschooling area would ideally be located near your workspace, so you can offer assistance and answer questions, as needed.
If possible, dedicate a desk or table where your child's work can be spread out—and left out when they break for meals and snacks. Position supplies and materials nearby so they are independently accessible, and place a trash can and recycling bin within reach for easy cleanup. A washable, plastic tablecloth can help transition an academic space into an arts and crafts area.
If the weather is nice, try studying outside! A porch swing is a perfect spot for reading, and gardening in the backyard is a great addition to any science curriculum. 
In addition to creating an academic learning environment, find age-appropriate opportunities for your children to help with household chores and meal preparation. Homeschooling advocates emphasize the importance of developing life skills alongside academic ones.2 And with more meals and activities taking place at home, there will be ample opportunity for every family member to pitch in and help.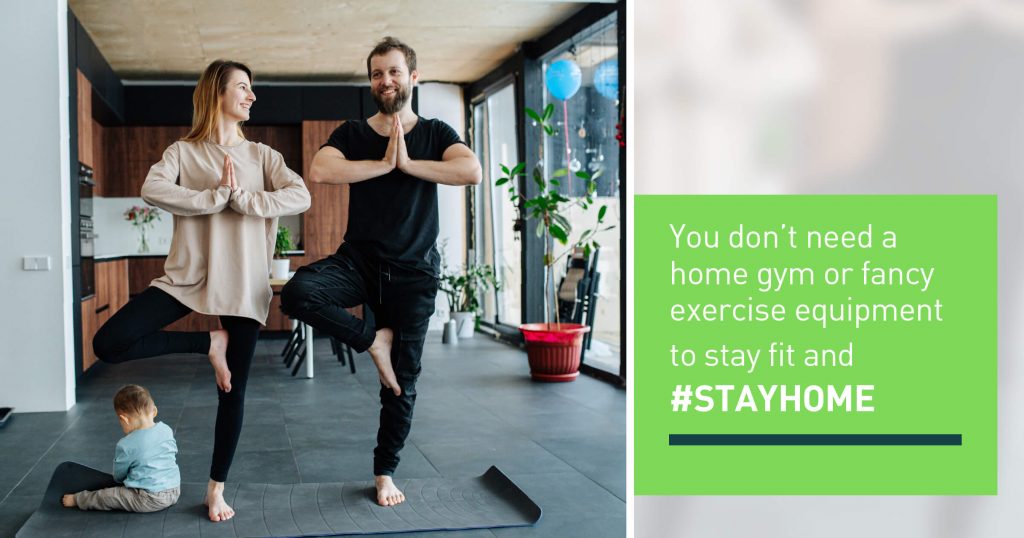 Staying Fit
With gyms closed and team sports canceled, it can be tempting to sit on the sofa and binge Netflix. However, maintaining the physical health and mental wellness of you and your family is crucial right now. Implementing a regular exercise routine at home can help with both.
If you live in a community where you can safely exercise outdoors while maintaining the recommended distance between you and other residents, try to get out as much as possible. If the weather is nice, go for family walks, jogs, or bike rides. 
Can't get outside? Fortunately, you don't need a home gym or fancy exercise equipment to stay fit. Look for a suitable space in your home, garage, or basement where you can comfortably move—you'll probably need at least a 6' x 6' area for each person. Many cardio and strength training exercises require little (or no) equipment, including jumping jacks, lunges, and pushups. 
And if you prefer a guided workout, search for free exercise videos on YouTube—there are even options specifically geared towards kids—or try one of the many fitness apps available.
Socializing From a Distance
Even though we're all being called upon to practice "social distancing" right now, there are still ways to stay safely connected to our communities and our extended families. Picking up the phone is a great place to start. Make an effort to reach out to neighbors and loved ones who live alone and may be feeling particularly isolated right now.
And while parties and playdates may be prohibited, modern technology offers countless ways to organize networked gatherings with family and friends. Try using group video conferencing tools like Google Hangouts and Zoom to facilitate a virtual happy hour or book club. Host a Netflix Party to watch (and chat about) movies with friends. Or plan a virtual game night and challenge your pals to a round of Psych or Yahtzee.
There are safe ways to connect offline, too. Rediscover the lost art of letter writing. Drop off groceries on an elderly neighbor's porch. Or organize a neighborhood "chalk walk," where children use sidewalk chalk to decorate their driveways and then head out for a stroll to view their friends' artwork.
Of course, there's one group of people who you can still socialize with freely—those who reside in your home. Family dinners are back, siblings are reconnecting, and many of us have been given the gift of time, with commutes, activities, and obligations eliminated. In fact, some families are finding that this crisis has brought them closer than ever. 
YOU ARE NOT ALONE
Even with all of the tools and technology available to keep us connected, many of us are still feeling stressed, scared, and isolated. However, you can rest assured that you are not alone. We're not only here to help you buy and sell real estate. We want to be a resource to our clients and community through good times and bad. If you and your family are in need of assistance, please reach out and let us know how we can help.
Sources:
CNBC –


https://www.cnbc.com/2020/03/16/how-to-work-from-home-with-your-kids-during-the-coronavirus-outbreak.html

TheHomeSchoolMom.com –


https://www.thehomeschoolmom.com/benefits-of-homeschooling-2/
Top 6 Home Organization Upgrades that "Spark Joy" for Buyers
Cindi French
Thanks to Marie Kondo and her hit Netflix series "Tidying Up," home organization is a hot topic right now. Marie encourages her viewers to minimize their possessions and keep only those items that "spark joy."
With spring in full bloom, now is the perfect time to do some spring cleaning and add organizational systems to your own home. Not only will you clear out clutter, your efforts can actually increase the value of your home.
Ready to give it a try? Here are six home organization ideas that will "spark joy" for you and your property value.
 
Boost Bathroom Storage Capacity
When was the last time you cleaned out your bathroom cupboards? If it's been awhile, remove everything and take a look at each item. Toss any old or expired products—keep only what you actually use.
If your vanity has drawers, add drawer organizers, so you have a dedicated space for smaller items, like makeup and jewelry. For deep cabinets, install roll-out shelves or baskets to maximize the use of space.
And don't forget about the walls! Mount open shelves to store towels. If you're short on storage space, a cabinet over the toilet can offer additional room for supplies. These inexpensive additions can make your morning routine a little easier while giving your bathroom a more custom feel. And on average, minor bathroom remodeling projects like these see a 102% return at resale.1 

Upgrade Your Laundry Room
Sort through the items in your laundry room and throw away or donate anything you no longer need or use. If you've been holding onto a collection of old washcloths and single socks, it's time to say goodbye. Then give your laundry room an upgrade with some customized organizational features.
A mix of open cubbies and cabinets with doors will give you plenty of options for storing detergents and supplies. If you have space, a divided hamper or set of laundry baskets can provide a place to sort your clothes before washing. Install a hanging rod or drying rack for delicates and a flat work surface for ironing and folding clothes. With a few simple tweaks, you can turn this chore into a score!

Fully Utilize Your Basement or Attic
Basements and attics can easily become a dumping ground for clutter. If that's the case in your home, you know what to do!
Once you've conducted a thorough clean out, think about how you can better utilize the space to meet your family's needs. Install cabinets and a table so you can use the area as a craft room. Or you could turn it into a game room with a media center and ping-pong table. Investing in your basement will not only add function for your family, but also the average basement remodel can see up to a 70% return on investment when it's time to sell.2
If you have an attic, consider adding a cedar closet to store your off-season clothing. The cedar lining will keep your clothes free from moths and smelling fresh year round.3 Turning your attic into a more usable space will pay off down the road, too. A finished attic sees an estimated 60% return on investment.2
 
Customize Your Closets 
Cleaning out the closet is a chore most of us dread, but by now, you're a pro! Get rid the clothes and shoes that don't fit you, are uncomfortable to wear, or that no longer "spark joy."
Then it's organizing time. So where do you start? You'll want to create a designated space for each type of clothing: high hanging rods for dresses and long jackets, lower rods for skirts and shirts, and shelves for folded items like jeans. And accessories need a place to go, too. Add racks for your shoes, drawers for jewelry, hooks for hats, and shelves or racks for handbags.
A well-equipped closet can be a major draw for buyers—the average return on a closet remodel is 57%.4 But more importantly, it'll improve your day-to-day life. Surveyed homeowners gave their closet remodel a "Joy Score" of 10 out of 10, higher than kitchen or bath upgrades.5

Install Built-in Bookcases and Cabinets
Built-in furniture adds functionality and storage to a room while giving your home a high-end look. Built-in bookcases can turn an empty room into an office. Custom cabinets can be used in a living room to display media equipment while providing hidden storage for DVDs, board games, and family albums.
When designing any built-in feature, remember not to go too custom. A design that only fits your tastes or belongings could turn off future buyers. Instead, select standard sizes and classic finishes to appeal to a broad range of buyers when it comes time to sell.
Equip Your Garage
If you can no longer fit your car in your garage, it may be time for a clean out. Similar to an attic or basement, the garage can quickly become overrun with clutter. A thorough cleaning will help you assess which items are worth keeping.
When adding organizational systems your garage, start with a small rack to store yard tools and larger racks for bikes and sports equipment. Overhead racks are a great place to put seasonal items and bulky luggage. A workbench against a wall lined with pegboard and hooks creates a dedicated space to use and store tools. If you have children or pets, add a cabinet with a lock. This will give you a place to securely store harsh chemicals and sharp tools. With a little effort, you'll be pulling in your car (and buyers) in no time!

SPRING INTO ACTION
If you're searching for service providers to help with your spring cleaning or home organization efforts, let us know! We can connect you with our trusted network of local home improvement professionals. We can also help you determine which organizational upgrades will add the most value to your home. Call us today, and let us know how we can help!
Sources:
Top 10 Myths That Trip Up First-Time Home Buyers
Cindi French
If you're thinking about buying a home, you've probably received your share of advice from family and friends. Add to that the constant stream of TV shows, news segments, and social media posts that over-simplify the home buying process for easy entertainment.
With so much information to sift through, it can be tough to distinguish fact from fiction. That's why we're revealing the truth behind some of the most common home buyer myths and misconceptions. 
Buying a home is a big decision, but it doesn't have to be a scary one. If you arm yourself with knowledge and a qualified team of support professionals, you'll be well equipped to make the right choices for your family and financial future.
DON'T FALL FOR THESE COMMON HOME BUYER MYTHS
Myth #1: You need a 20% down payment. 
Plenty of buyers are purchasing homes with down payments that are much less than 20% of the total cost of the property. Today, you can buy a home with as little as 5% down.
There are multiple programs out there that allow you to have a lower down payment, and a lender or mortgage broker can talk you through which option is the best for you. Since you're putting less money down, you're a riskier borrower to your lender than people who put down a full 20%. Because of this, you will most likely need to pay mortgage insurance as part of your monthly payment.
Myth #2: Real estate agents are expensive. 
Your agent is with you every step of the way throughout your home buying journey, and he or she spends countless hours working on your behalf. It sounds like having an agent is expensive, right? Well, not for you. Buyers usually don't pay a real estate agent's commission. Your agent's fee is paid for at closing by the seller of the home you're buying.
Myth #3: Don't call a real estate agent until you're ready to buy. 
The earlier you bring in an agent to help with the purchasing process, the better. Even if you're in the very early stages of casually browsingRealtor.ca, a real estate professional can be a huge help. 
They can create a search for you in the Multiple Listing Service (MLS), so you get notifications for every house that meets your criteria as soon as it hits the market. The MLS is typically more up-to-date than popular home search sites like Realtor.ca. Setting up a search a few months before you're considering buying gives you a good idea of what's out there in your town that's in your budget. Reviewing the MLS and speaking with an agent as soon as possible can help you set realistic expectations for when you actually start the house hunting process. 

Myth #4: Fixer-uppers are more budget friendly. 
We've all watched the shows on HGTV that encourage people to go after fixer-uppers because they're more affordable and allow buyers to eventually renovate the home to include everything on their wishlist. But, this isn't always the case. 
Sometimes, homes that need a lot of work also require a lot of money. Big renovations, like add-ons, a total kitchen remodel, or installing a pool, take a lot longer than it looks on TV. If you're really interested in a fixer-upper, ask your agent to show you a mix of newer homes and older homes. If you fall in love with an older home that needs a lot of work, get some quotes from contractors before you buy so you know the real cost of the renovations and see if you can work them into your budget. 
Myth #5: Your only upfront cost is your down payment. 
Your down payment is big, but it isn't the only money you'll spend during the home buying process. At closing, you'll pay your down payment, but you'll also bring closing costs to the table. Closing costs are typically anywhere from 2-4% of the total purchase price of the home.2 This amount includes the cost for items like homeowners insurance, title fees, and more.
Myth #6: You need a high credit score to buy a house. 
You don't need perfect credit to buy the perfect home. There are loans out there that buyers with lower credit scores can qualify for. These are good options for people who have had credit issues in the past, but some of them come with additional fees you will need to pay. Speak to a few local lenders or mortgage brokers to talk through which options might be best for you. 

Myth #7: You can't qualify for a mortgage if you're still paying off student loans.
While some buyers may feel more comfortable paying off their existing debts before taking the leap into homeownership, it's not a requirement. When you're applying for a mortgage, the lender takes a close look at your debt-to-income ratio.3 If you want to calculate this on your own, add up all of your monthly debt payments and divide those by your monthly income. When you're lender does this, they're trying to make sure that you will be able to afford your monthly mortgage payments along with your other existing payments. If your income is high enough to allow you to make all of these payments each month, having a student loan will most likely not stop you from getting a mortgage. 
Myth #8: You should base your budget on what your lender approves.
How much house you qualify for and how much you can afford are two totally different numbers. When you prequalify for a mortgage, your lender will look at your income, debt, assets, credit score, and financial history to determine how much money you might qualify for.4 For some people, this number might be much higher than you thought because lenders tend to approve for the highest amount they think you can afford. But that doesn't mean that's how much you should borrow. 
Instead, figure out how much house you can actually afford. An online mortgage calculator can be a good first step in determining this number. We recommend thinking about what you want your monthly payment to be as a starting point. And remember to include your principal, interest, taxes, and, insurance. You should also think about ownership expenses that aren't part of your monthly payment, like updates and maintenance.

Myth #9: It's all about location. 
You've heard the phrase. Location, location, location is basically the real estate industry's motto, but we'll let you in on a little known secret: It's not always true. Yes, location is great to consider when it comes to school districts and commute times, but you also need to think about how the home will function for you and/or your family's lifestyle. If a family of five is choosing between a one bedroom condo in the bustling city center and a 4-bedroom home out in the suburbs, the latter is probably the best, most functional choice for them. Also, by buying in a less sought after neighborhood, your property taxes will most likely be much lower! 
Obviously, you might still want to choose an area with great resale potential, and this is something that your agent can speak to you about. They're an expert in your city and are constantly monitoring buying and selling trends. 
Myth #10: If you look hard enough, you'll find a home that checks every box on your wishlist. 
You've seen that famous house hunting show. And while we have our suspicions about how real it is, the one thing they get right is that almost every buyer needs to compromise on something. Yes, the perfect house that meets every item on your wishlist is probably out there, but it's also probably double or triple your budget. 
A long wishlist can be a great starting point for figuring out what you want and don't want, but we recommend narrowing that wishlist down to the top five things that are important to you in order of priority. We also recommend noting on your wishlist what your absolute deal breakers are, like "must have a yard for our dog," and noting what you can live without, like "heated bathroom floors." 
This is a great list to discuss when you first start talking to an agent. A good real estate agent will be able to look at your list and find properties that might work for you. By coming to that first meeting with realistic expectations and knowledge about home buying rather than a bunch of myths heard here and there, you'll be able to start the process off on the right foot and be in your new house in no time. 
WE'RE HERE TO HELP
Whether you're a first-time buyer or a seasoned homeowner, there's no reason to go through the home buying process without an advocate on your side. We're here to answer your questions and do the hard work for you, so you can spend your time dreaming about your new home. Call us today to schedule a free, no-obligation consultation.

 
Get a FREE copy of our Home Buyer's Guide to Getting Mortgage Ready
Now that we've cleared up these common homebuyer myths, find out if you know the steps you should take to prepare financially before you apply for a mortgage. Contact us to request a complimentary copy of our "Home Buyer's Guide to Getting Mortgage Ready." 
Top Five Points to Remember When Picking New Kitchen Cabinets
The kitchen is a common room for all members of the family. It gets lots of traffic in a single day, explaining why it can start to show signs of deterioration in just a few years.  Your kitchen deserves a makeover and this can entail a fresh layer of paint or brand new appliances. The kitchen is likely to brighten up if you buy new cabinets. According to expert kitchen designers, you should always reflect on the following five points prior to making a decision on either picking custom cabinets or pre-manufactured designer cabinets. They include:
1)       Price
Custom cabinets are usually pricier than pre-fabricated cabinets. However, you can buy slightly cheaper custom cupboards from a big box store and have them installed for a fee. If you decide to buy custom-made cabinets from a carpentry shop, however, you will most likely pay a hefty price for your cabinet based on the materials you opt for, your kitchen size and your neighbourhood. It may be easier to just choose designer cabinets because they come in a wide range and are customizable. 
2)        Removal of old cabinets and installation of new ones
Whether you purchase your new kitchen cabinets from cabinet carpenters or box stores, there will be nice services to enjoy from each. Many stores include removal and installation service in their fee. It means that the service provider will remove your old and worn-out cupboards, install your new ones and clean your kitchen after finishing their work.  If your service provider does not provide this service you will have to budget for it as well.
3)       Size of your kitchen
Does your kitchen have an odd shape? If so, it could be that no other cabinets would be more appropriate for your kitchen size and shape than made-to-measure styles.  On the other hand, you may have a basic kitchen design that can support both pre-fabricated cabinets and box-store ones. If that is the case you can choose either of the two as they are the cheaper alternatives.
4)       Value for your money
According to professional kitchen designers who make custom cabinets in the GTA (Greater Toronto Area), you can get more value for your money if you use a custom cabinet maker.  Not only does a custom designer give you an option to choose furniture that will suit the size, shape and design of your kitchen. They also possess quality craftsmanship that you can hardly find from the makers of pre-fabricated kitchen cupboards.
5)       Customer support
A custom cabinet maker provides quick customer service particularly when there is an issue with your order. In addition, their responsiveness when quick repair projects crop up usually doubles that of a huge manufacturer.  Furthermore, custom cabinet makers tend to outdo pre-fabricated cabinet manufacturers even when it comes to owning up to their own faults. They respond quickly and practically to the needs of their customers.
Final tip
Any remodelling project is a big undertaking for a homeowner like you. Therefore you need to create your budget carefully, being fully aware and honest about your needs, and then seek assistance from a renowned home professional in your local area.